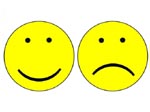 When we separate we feel a sense that we have lost our position in the family. Don't forget that you are still your children's father, even though you do not live with them. You must maintain a mindset and make it clear in your children's mind that your family continues even though you don't live with them every day. Your children now have two homes instead of one, there will be some adjustments around ease of access but your love and responsibility does not change and your efforts and determination to ensure that they know this will not go unrewarded.
Feelings of guilt, loneliness and depression can definitely come from separation and for some can be quite intense leading to avoidance and solitude. There was a study conducted on men who after separating for 2 months, 1 year and 2 years from the family home all showed similar signs of avoidance i.e. not going home to an empty house, they would more likely work back late or visit a bar with a friend.
One of the loneliest times for separated dads is when they are driving away after returning the children to their mothers, this was definitely real for me. There are some great books to read on this subject. Reading can help you understand your own feelings and provide coping strategies to help you work through those times. I spent many a times in book shops in the "self Help" section looking for answers and ways to cope.
Remember, knowledge will help you get through this, so keep searching and reading up. Check out another post on our site that can provide some answers for you, click here Practical Steps to take when separating