If you're separated or divorced and don't have a good access arrangement, this might help you stay better connected.
Missing your child and feeling like they're missing out on you is a heavy weight to carry.  Kids are resilient and I found that if they are loved and cared for at both houses then they grow up stable. That doesn't help the feeling of loss and grief that a Dads have to bare during the times they are absent.
One area that I have always been interested in and a keen participant is…keeping in-touch in between the times you are together and letting my child know that they are top of mind even if you can not be together for a week or two?
I found a great way to keep in-touch during the absent times and it became a bit of a hobby.
Wherever I happened to be, if there was a card shop or newsagency, I would always walk in and look for a card just to say "hi" There are some really nice and creative cards on the market, there would always be a different card that I thought my child would like. Over the years there would have been shoe boxes full of cards that I had sent and I doubt that I ever doubled up on the one card 🙂
Kids like to get mail from the postman, it makes them feel special
I would send a card once a week, the first card I would post just after my access visit as it would take a day or two to arrive. I would write simple things about the fun we had that weekend and how much I loved doing things together and sign off that I loved her.
The card on the second week would simply talk about how is her week going, how is school? and I am looking forward to the weekend and will pick you up at normal time.
I never mentioned  any comment about missing her as I did not want her to feel sad in any way, I made the card always happy, positive and upbeat.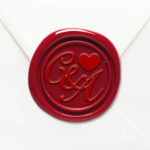 You can get personalized stickers with your initials to seal the back of the envelope or better still both initials or an emblem that they'll know instantly the card is from you. Click here for a supplier
Have you guys tried that or what are some of the other things you're doing?
This post was first published in 2012 and updated in 2017.