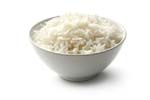 I always wondered how the Chinese make their rice so good, light, not to dry, not to moist and without a rice cooker? Be low is how to make steamed rice.
Prep time
5 minutes
Cooking Time
20 minutes
Ingredients (serves 3)
1.5 cups long-grain white rice
2 cups water
Method
Place rice in a medium saucepan and then add the water. Cover with a tight fitting lid or foil and bring to the boil over high heat. Reduce heat to medium-low and cook, without lifting the lid, for 10-12 minutes or until the water has been absorbed. Remove from heat and allow to stand for 5 minutes without lifting the lid. Stir the rice with a fork to separate the grains. Alternatively invest in a rice cooker! They are not expensive and produce the best rice in minutes, seriously the best way to cook rice.