Being a parent for the first time is exciting but it comes with responsibilities and part of that responsibility is making sure your child grows up in a safe yet still stimulating environment so they can develop to their maximum potential. One of the best ways to ensure safety is to take time every few weeks, to view our home from your child's perspective. To that end, you might like to get down on their level, literally! Start crawling around your home to see where potential dangers might be – it's amazing what you come across on the floor, including dropped medication, sharp corners and unplugged electrical sockets- accidents waiting to happen! Below is a step by step guide on how to childproof your home depending on child's age, development and needs.
The New Born Stage
When you bring your newborn home from hospital, it is a "getting to know each another phase" for you all. The baby's room, or nursery is the first room to organise and have ready, when your baby arrives! First up, never, ever leave a baby alone without parental supervision. It's as simple as that. Make sure your child is within earshot when they are sleeping. Another piece of invaluable advice is to not over fold baby blankets when they are sleeping and resting – they can overheat quickly that way.
The Baby Stage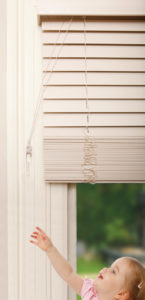 Seek out danger and take preventative measures to ensure your young children are safe at home, every day. An investment in blind cord wind-ups or wraps (pictured) from the beginning is very worthwhile, and are easily installed (a perfect "dad" job). On a serious note, they keep blind cords out of the reach of babies in their cots and from older siblings in general. Over-long cords can lead to strangulation. And remember to move cots and beds away from windows and window fittings whenever possible.

Night time
For night time action, a night light is good to have on, one that is not too bright, so you can keep an eye on your sleeping baby, it is also very handy for all those middle of the night feeds, changes and daddy cuddles too!
The Waddler and Toddler Stage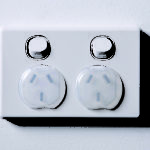 As your baby grows and becomes more mobile (and curious), safety around the home is impetrative! Key rooms to keep safe are the kitchen and living areas. A good job for all new dads is to ensure your house is ready for your baby when he/she becomes mobile. Young babies and children are very inquisitive and learn through repeated observation. Invest in a few child safety locks. By using a variety of different locks and latches that work in different ways, it becomes harder for young children to work out how to open them. Also, make sure you have the right lock or latch for each cupboard depending on the type of handle. Dreambaby® have a huge range of locks and latches to suit your home and needs. Remember to cover all power points around you home too!
Bathroom Safety
In the bathroom ensure your bath tub is non-slippery, and there is a suitable baby bath to assist with bathing of your baby. Always keep medicines out of the way of babies by keeping them up high in secured cupboards. Other necessities to have on hand are medicine droppers, a rapid response digital thermometer and last but not least, make sure baby's nails are kept short. Use baby scissors or clippers (don't tear nails or bite them off even if they are very soft). Babies often put their hands up to their faces and can scratch their corneas and cut their faces if their nails are overly long.

Equipment and Baby Investments
Make sure all your baby equipment, furniture including your cot and pram, meet government and industry standards. Try not to buy second hand if you can, as it is never easy to gage the wear and tear on items. Also check to see if screws are tightly secured, both when you set up equipment, and afterwards as things loosen along the way. For instance, safety gates need adjusting on a regular basis.
There is so much information available for new parents, it can be a very fast learning curve!
Enjoy these early years as a new dad, as everting will tell you, they grow up fast and it will all too soon, be a distant memory!
For further advise and tips, a visit to your Early Childhood Centre is a good start. Your GP and Paediatrician are also invaluable when it comes to questions about baby's safety, healthy wellbeing. Also check out the Kidsafe website for general safety information and of course visit the Dreambaby® website for safety product suggestions and solutions or call (02) 9386 4000. And be part of the safety conversation: Dreambaby Safety Facebook page. For useful safety tips & advice from Dreambaby®, check out DreambabyTV