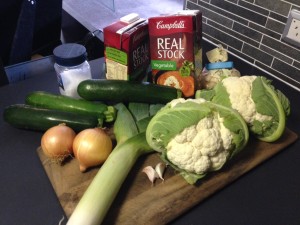 I got onto this recipe when I stayed at the Golden Door retreat, every time I make it, the kids practically lick the bowl clean. It's really awesome! For the soup lovers that like it a little hot, drop a small dollop of chilli mixture in the center and stir it through.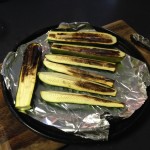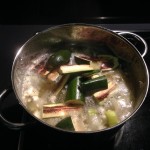 Ingredients – serves approx 15

2 large onions – chopped
1 leek – chopped, white part only
3 Zucchini's – cut in half and grilled for 20 minutes
1 large (or 2 small) Cauliflower – chopped
1/4 cup of cashew nuts – chopped
2 garlic cloves – roasted (place on try with zucchini's)
3 litres of Vegetable stock
Salt and pepper to taste
 Method
Combine onion, leek and salt in large saucepan with some water to saute for 5 minutes.
Add everything in and bring to boil and then let simmer for 30 minutes
Remove soup from heat and allow to cool
Blend soup in food processor or blender until smooth
Reheat gently and serve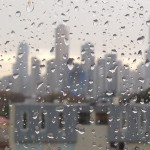 There is nothing better than a great soup on a winters night, it will make a great meal for the kids and you. I would love your feedback on how you all enjoyed this cauliflower and zucchini soup?
Don't forget the crusty bread to go with it.
ENJOY!