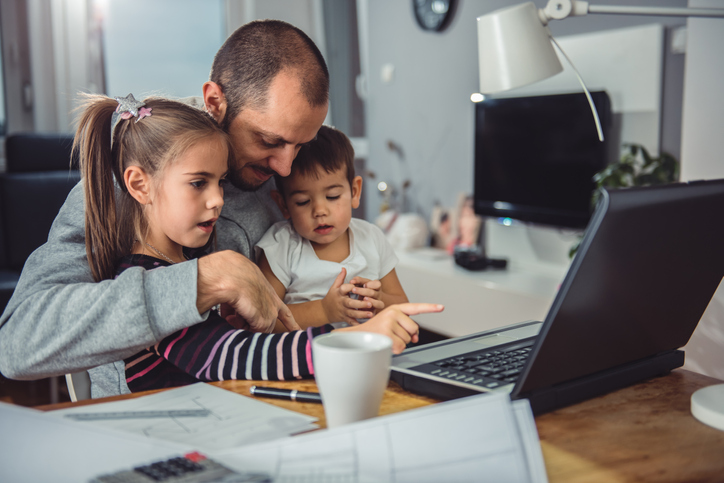 We have all been thrown into working from home (some call it remote) and it can be the best thing that has happened to us in our career or is it something we need to get used to?
Having more time on our hands is a gift, the time saved travelling to and from the office can give us a couple of hours back in our day. How are you using that extra time? using it to sleep in, are you getting up to exercise now you have some extra time, enjoying a longer breakfast or starting your workday earlier? Do you get dressed or stay in your PJ's all day 🙂 All of the above is normal and you need to do what works for you.
By having that extra time on your hands and all that flexibility can be too much for some, it can make you unproductive. Let's not discount the negative effects all that time on your own can have on your mental health. How are you looking after yourself and maintaining a positive mental attitude?
For Dads at home with the kids, how's that working? Are you loving the extra time with your kids and getting to know them a lot better? It can take intentional efforts to balance the needs of your kids and the demands of your workday when you are all at home together.
Lets look at how you can work from home successfully
Make time for getting some fresh air and reduce cabin fever.
Start the day off with a walk, walk again around lunchtime and then again at the end of the day. This will help blow out any cobwebs, clear your head and reset.

Have a dedicated area set up as your office.
I have my office outside in an under-cover balcony. I purchased a outdoor radiator for warmth, a camp table for my desk. If you are lucky enough to have a desk/table inside? Its a good idea to set up two screens and keep your desk free of clutter. Buy a telephone/ computer headset so you can plug in for zoom meetings or connect into your smart phone enabling you to be hands free.

Stay in the same schedule as you would at work.
Meaning, get up, shower and get dressed. Its the Pajama thing that can dampen your self image. Sit down at your computer at the same time you would if you were at work, Take a break, have lunch and knock off at the same time each day. Routine is not just for kids.

Use video chats where-ever possible.
Connection is everything. We are used to seeing our colleagues more often in and around the office. That break in connection can be isolating, replace it with video conferencing when ever possible, its amazing the dfference it makes. There are lots of ways to use video meetings, some people use zoom, Facebook messenger, Teams, whatsapp and skype to name a few but there are plenty more…

Be organised with what you want to accomplish today and the week.
A daily to-do list and weekly goals is essential for some who can be easily distracted. Use your diary to place the tasks that need to be accomplished for the day. Work on the big one first, if you have ever read the book "East the Frog" will understand this. The trick is to write down plenty of things you want to accomplish and be busy!

Get dressed
I mentioned earlier the Pajama's or trackie dacks should be avoided for your preferred work-wear. You have to dress for performance and effectiveness and be in the right mind set. Pajamas are for sleeping…right? Its also been mentioned that at the end of the day you should change again or put on a different shirt. If we don't our home becomes our all consuming office rather than our home.

Try not to snack all day.
Having a pantry at your finger tips or within a few steps is very tempting. Snacking all day is a sure way to put on weight. Stay busy and enjoy your Breakfast, lunch and dinner with water in between. You will get used to it and your body will thank you.
Headphones with a mic will be your best friend.
If you can make them noise cancelling even better but just headphones to plug into your computer and smart phone will keep your hands free for working, if you're an online gamer you will understand this completely.. I needed to buy an adapter to connect to my iPhone and then take it off to plug into my computer. Best home office purchase I have made aside from my 2nd screen.
Friends and family need to know you are working.
Just because you are home doesn't mean you are 100% available to your friends and family. They need to know you're working, so set some time limits and catch up on your breaks? If you have small children its nearly impossible, yet set them up with their own work station and get all the craft, coloured pencils and give them a daily project like The Family Tree which we recently blogged about and let them know you'll check their work on your break 🙂

Work with a colleague on mute.
Have power sessions and dedicate time to tasks i.e. dedicate a 1 hour block to focus on any task, like, writing a report, planning for your team, calling prospects to make appointments, customer follow up calls etc. But here's the twist, video in a colleague who wants to focus also for a couple of hours on their own task – and mute the mic! you can work like in the same office but on your own project – can see each other working but can not hear them… I love this!!
Coping strategies to keep you and your family sane…

Talk to people
Remember to pick up the phone and ring people. We still need to hear the sound of other people's voices. Ring at least one person a day, whether it's work colleague or personal friend. Ring someone and discuss what's happening for you and how you've been affected. Listen to them also, hear their experiences, compare and discuss. Understand that while we are all going through this together, every individual is having their own experiences at the same time.
Make it a habit to ring at least one person each day.
Managing Life
Life hasn't stopped. It certainly has changed, but life is still going on. Babies need to be born, people need to be educated and the whole administration part of life continues to need attention. Try and stay on top of your responsibilities and if you can't ask for help. It's alright not to be alright.
Back to basics with Board games, art, hobbies
Dig out old games and have a think about projects you were inspired about in the past. Bring out the artist in you, whether it's piano, paint or playdoh, you now some to time spend on an old or new project.
Manage your exposure to media
Don't spend too much time watching or listening to the news or reports on the situation. Getting an update in the morning, a small amount of news during the day and another update in the evening is all that's needed. If you spend too much time watching those reports, there is potential for everything seem worse that it really is.
These are strange and unprecedented times and while we need to know what is happening and stay up to date, we also need to look out for ourselves.
Talk about any changes that you're feeling
Be aware of your moods, attitudes and outlook at this time. Are these changing for you and who do you talk to about these changes?

If you don't have anyone that you talk to about this already, read the above paragraph on phone calls and think who in your circle of family, friends or colleagues could you talk to about what's challenging you at the moment.
If you wouldn't feel comfortable talking to anyone else, you can always ring lifeline on 13 11 14   24/7/365 – Always there to talk.

Thank you to Malcolm Guy
M. 0403 583 927 
E. mal.guy@outlook.com
Malcolm is a call center supervisor with Lifeline and a trained Mediator. Malcolm helps individuals and couples with mediation, parenting plans and will help prepare you for difficult conversations. Please reach out to Malcolm directly by the contacts details above.