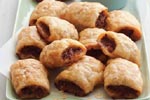 Grab the kids to help you in the kitchen and make these yummy sausage rolls.
There is nothing better than cooking with kids, its so much fun 🙂
Makes 24
Ingredients
500g sausage mince
2 tablespoons tomato sauce
2 tablespoons barbecue sauce
3/4 cup fresh breadcrumbs
2 teaspoons mustard powder
1 small brown onion, grated
1 medium carrot, peeled, grated
3 sheets frozen puff pastry, partially thawed
Tomato sauce, to serve
Method
Preheat oven to 200°C/180°C fan-forced. Line 2 large baking trays with baking paper.
Combine mince, tomato sauce, barbecue sauce, breadcrumbs, mustard powder, onion and carrot in a bowl.
Cut each pastry sheet in half. Shape 1/2 cup mince mixture into a sausage shape. Place along 1 long side of 1 pastry half.
Roll up pastry to enclose filling.
Using fingertips, pinch pastry to seal.
Cut into quarters. Place, seam side down, on 1 prepared tray, 5mm apart. Repeat with remaining mince mixture and pastry.
Bake for 35 minutes or until golden and cooked through. Serve with tomato sauce.
Enjoy!