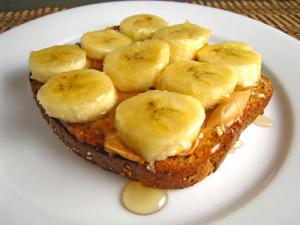 Ingredients (serves 1)
2 slices of your favourite bread
1 tbs peanut butter
1 banana, sliced
2 tsp honey
This snack is universal, breakfast or lunch 🙂 Came across it in a cafe in St Kilda Melbourne the other day, so simple and delish!
Method
Spread 1 slice of bread with 1 tbs peanut butter. Top with 1 banana, sliced, and drizzle over 2 tsp honey. Top with another slice of bread.  Toast it if you prefer?  …Enjoy.