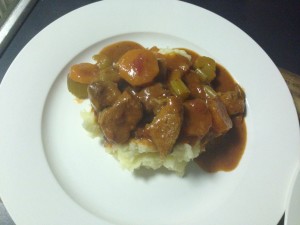 Tonight was the first week night of the year that gave us a hint of winter- 11 celsius. A perfect night for a slow cooked style casserole with mash potato. I searched the net for a yummy recipe that would satisfy my toughest critics, yes the kids! I found a recipe that was DELICIOUS 🙂
No wonder Julie Goodwin won Master Chef and is known for family cooking, Julie's website helped me out today (I came home at lunchtime and put it on so that it was ready tonight, although I prepared it yesterday). You might need to cook this on a weekend if you don't have the time?
You will need a slow cooker, I recommend investing in one as the dishes they produce are easy and so tasty.
This dish is a winner:
Osso Bucco with a Dads twist…
Serves: 4
½ cup plain flour
¼ tsp salt
¼ tsp ground white pepper
4 Oyster blade steaks (around 1.2 kg)
2 tbs oil
2 carrots, diced
3 celery sticks, diced
2 onions, diced
4 cloves garlic, chopped
¼ cup tomato paste
1 ½ cups white wine
1 ½ cups veal or beef stock
1 x 400g tin of  diced tomatoes
Method:
Cut Oyster blade steaks into bite size cubes, Put flour, salt and pepper into plastic bag (I use freezer bags). Hold the top of the bag and shake it up to mix all the contents together.
Put diced steaks into bag and again hold the top of the bag and shake to coat the steaks with the mixture.
Put Olive oil into frypan and sear the steaks so that they are slightly browned. Make sure that you shake off the excess flour back into the bag so that you don't have too much flour in the pan.
Once brown put them into slow cooker to rest.
Dice, onion, carrot, celery and garlic and soften in frypan ( do not brown) This should take about 3-4 minutes whilst continually stirring. Add the tomato past, beef stock, wine, and the remainder of the flour mixture to vegetables and mix through.
Once mixed through pour all contents into slow cooker, mix and turn slow cooker on and close lid.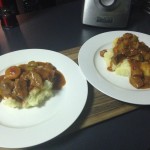 I cooked this dish for 4  hours, prior to serving I warmed the plates  and made mash potato with some parmesan cheese added.
There is enough over to have it again tomorrow night or it has been suggested I make a pie with it Mmmmm.
Seriously everyone thought it was delicious, I hope you enjoy 🙂