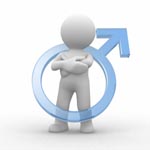 When boys are growing up and there bodies start to change, they will have questions about these changes.  Below is a response to a commonly asked question that may help you.
You might have noticed that some of the girls you know are taller than the boys.  But you've probably noticed that out of the adults you know, most of the men are taller than the women. What's going on?
Well, girls get a head start on puberty — and growing taller — because they usually start these changes between the ages of 8 and 13. Most boys, on the other hand, don't begin until between the ages of 9 and 14. So that's why girls are often taller than boys during that time.
Most boys may catch up — and even grow taller than girls. But it's also important to remember that your genetics play a role in height. So if your mom and dad are tall, you're more likely to be tall. And if your mom and dad are kind of short, you may be short, too. But nothing is definite.
You have to wait and see how it turns out, but you can also talk to a doctor if you're concerned. Remember — not every adult male is tall. Many men who are considered "short" have gone on to have careers in the movies, the military, and even professional basketball!
There aren't any exercises or magic pills to make you grow tall. But by being active and eating nutritious foods, you're helping your body grow up healthy, just the way it should.
Content provided by Kids Health