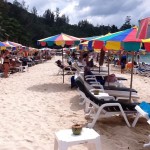 Travelling for me (as a sole parent) has been something that has provided an enormous amount of pleasure for my daughter and I.
We can now share memories and life experiences across a myriad of destinations.
Together we have travelled to Bali, Thailand, Fiji , Perth as well as many local destinations like Hamilton Island, Gold Coast and Angelsea on the west coast of Victoria.
All locations were great and offered something special in their own way.  I felt Bali was like a small friendly community; Fiji was good if you just want to relax and hangout by the hotel pool and Thailand (Phuket) had better roads, infrastructure and amenities and the people were so warm and friendly.
If I had to choose one (1) destination for a single parent I would recommend Phuket in Thailand.
Our holiday in Phuket…
It was Christmas time and I'd planned for 6 months, I had been told that you may find it difficult to find accommodation if you dont book early.
First things was to find flights and accommodation, I used tripadvisor.com.au it was so easy, in fact the easiest part of the holiday. You can read reviews and make your own mind up on accommodation, restaurants and attractions within the area.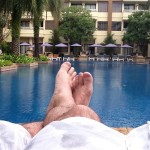 I chose the Buskorn wing at the Holiday Inn Phuket and flew with Jetstar.  I purchased the inflight entertainment prior to boarding as if you don't pre book you can miss out (it's a long flight without a movie or two)
I may have over spent on the accommodation but there are no regrets…. it was an incredible time for a dad and daughter! Buskorn wing at The Holiday Inn is a private part of the hotel, simply divine, relaxing and pure luxury.  I felt like it was not just a holiday for my daughter but a treat for myself too.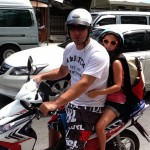 We hired a motorbike and searched for great spots such as Surin beach.  My daughter is a little bit of a fussy eater; I found that Phuket had many suitable styles of cuisine i.e Italian, Mexican, Indian, Western etc. 
It definitely made meal times easier, I only had to convince her that it was clean and the food was within the 'use by date' 🙂
After dinner we would walk along the shopping strip, buy an ice cream, find a lantern seller on the beach and let our lantern go into the night sky while holding hands and making a wish.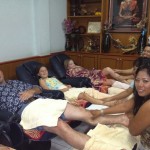 After a well earned foot massage we would retire to the hotel around 11pm then wake up to do it all again.
We had a morning ritual of breakfast in the poolside restaurant then an hour or so by the pool before heading out and sightseeing around Thailand.
We found fun things to do like elephant riding through the jungle and jet skiing at Surin beach.
Hiring a banana lounge on the beach under a shady umbrella is around $2.50 AUD per day.  Loving it so much we went back 3 days in a row!!! 
There was a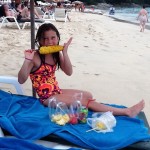 market at the entrance of the beach selling fresh fruit and cold drinks, which made healthy snacking easy.
Time went quickly, we had 10 wonderful days together.  Skype was set up on my phone and her mum's so they could keep in touch each day.
The flight home was easy, we tried to sleep or relax the whole journey.  I made sure we had the required things to keep her busy or relaxed for 9 hours, i.e pillow, Jetstar Video player, IPad, colouring book and pencils.  The IPod with her favorite songs was a winner, she was able to stretch out across me and relax.  I cant wait to continue our adventures this year, we have a local trip in Victoria planned for the next school holidays…..