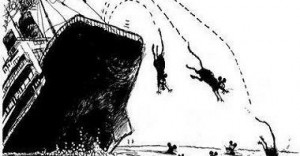 There are so many individual things that cause pain after separation.  It sometimes feels like your stuck on a emotional roller coaster. I've talked before about ways to "SELF CARE" during these years, but when I think about what it is that causes the downs, there is a top 4 that seems to be ongoing and are a little more sticky and prickly than some of the others. I would be interested in knowing if your pain has been the same as mine?
Below are my top 4 things that caused me the most pain after separation, and I have included what I did about it.
1. Grieving the loss of your children
This is the biggest pain point.  Feeling of loss, missing, guilty, can not guarantee their security 7 days a week, part time dad, daily contact, The feeling that we are no longer as important in their lives all brings feelings of grief that continues to plague your thoughts. It is important that these emotions are worked on. The feeling of loss will never leave, it is something you learn to live with and it will always be a dark cloud that follows you around.
What I did about it:  I came to realize that I am their 100% dad 24/7, even if I am not living with them. It is easier to cope knowing that it's true. I read once, that they don't have a dad – only when you stop being their dad. I thought about that and knew they have a Dad. Emotions are something that I am constantly working on. I surrounded myself with people (a person) who is positive. Keep a good home so that I feel good about my contribution to the children, work at co-parenting with their mother as it is easier for everyone if you can get along. I worked on ideas for keeping in touch so that the gaps between visits weren't silent, There has been a few posts written to help you with this, here is one: https://www.dadsonline.com.au/when-you-just-cant-be-there or another is this: https://www.dadsonline.com.au/card-hug
2. Reduced finances
Juggling bills month to month. You paying your share for the children but then 100% of your new housing and living costs and everything associated with it. Before separation, rent, mortgage, living expenses, holidays, children's clothing etc were generally a shared expense but now it requires much stricter budgeting as you end up paying for much of this on your own. Being separated brings some extra time on your hands when the children are not with you but you do not have extra funds to provide extra activities. Gym memberships, keeping up with fashion, holidays all take second place to surviving month to month. A study was conducted and found that men appeared to be generally 'unaware of and unprepared for separation.
This can mean that men do not approach their finances as an important factor in maintaining a positive parenting environment i.e. doing a budget will help you not spend more than you earn.  This is critical for your health and well-being and this is important for your children.
What I did about it:
The first thing I did was to complete a budget, I found a good one here: Budget Planner. I was honest with myself and made a decision to live within my means, you have too. You will or would have lost friends already, so your social life is diminished (more on this in No. 3) which in it's self means you will not go out as much as your did before. I cancelled my Gym membership, cancelled Foxtel, I called my bank and spoke to the department that managing credit cards and I had my credit card interest rate reduced from 28% to 5% just by asking, this helped me to reduce debt.
I started taking a lot of notice how I used water and electricity too. Life sucks for quiet a while but there are many things that you will find enjoyment with that don't cost money. Cutting back enabled me also to have a little savings.
There is always something that comes up that needs me to put my hand in my pocket, I have found that saving and cutting back has reduced the stress a little when bills come in or the new pair of runners or school uniform needs replacing.  If you feel you need urgent help to sort out your bills and prepare a budget, you can call 1800 007 007.  This free hotline is open from 9.30am – 4pm Monday to Friday.  When you call the number you will automatically be transferred to the phone service in your state where a financial counsellor will help you.
3. Loss of friends
Friends will choose who they want to be friends with after you separate, you will need to be prepared to loose many. Your guy friends will side with their wife or girlfriend because that's life. Its easier for them to dump you than it is to argue with their wife about it.
Some reasons why you might lose friendships are:
They judge you as not being an honest person and having same values
They believe you brought this tough time onto yourself
There own relationship is not great and you could be contagious
They choose who they will support, you or your ex (even if they have been your friend)
You are now "John Doe" the separated guy and they are not sure how to relate to you
You now have different interests and priorities and they just don't relate
A single dad just does not fit in with their idea of a friendship group
Whatever the reasons, some friends will leave you like rats leaving a sinking ship!
What I did about it:
I eventually focus on the positives, get out and spend time on yourself.  In the past you have probably had friends you would not have chosen, now you can choose exactly the friends you want to spend time with. I don't think there is anything wrong with dropping out for a while and just hanging out with yourself, in some ways it can be quite therapeutic to find yourself again. So long as it is not forever (as some fall into that trap of hanging out there and never leaving) finding new friends can be uncomfortable but you need to feel the fear and do it anyway.

4. Work Life Balance
I absolutely believe that separation stalls peoples career's (both Dads and Mothers). Purely from the distraction and commitment that needs to be exerted as a parent you can not put your energy  into a career equally – something has to give? and in my case it was not going to be the time I spent with the kids.
My children are now getting a little older and more independent that allows me to dedicate more time to my job which by default helps you move forward in your career. However whilst they were growing up I thought the last thing they needed is a family breakdown and a father who would rather spend more time at the office than with the them.
Company do say that they are family friendly but they also need you to get the job done and will tolerate a couple of nights leaving earlier but when promotional opportunities come around you could be over looked. Purely due to time restraints.
What I did about it:
I just had to juggle work and life!  it makes you time poor and stressful at times. I used to start work at 9am and at leave work at 5pm on the dot a couple of nights a week, be very organized in the mornings and get up to make breakfasts and lunches and make sure everyone was washed and dressed ready for school so that I was not late to work.
Some dads I know just could not be able to have the children during the week due to work demands, it makes me sad to think that but i know it is a reality.  It throws all the weekly parenting back onto the mother causing everyone to be disadvantaged and time poor. Time does heal and as the kids get older it becomes easier for all.
You just have to be in the game, put the kids first, make intentional efforts to parent them and make a home for them.