Travelling with my daughter  to a destination such as Bali has been wonderful to relax and spend quality time together away from the stresses of every day life. Although Bali has beautiful hotels and resorts that cater specifically for people who want to sit by the pool or find a tranquil spot on a day bed under a plam tree. There is also some important learning's we can bring back from Bali to help educate children on how lucky and well off we are.
I planned our whole trip online. We wanted to both relax but I also wanted to show my daughter a safe but different side of life so we visited an orphanage in Denpasar.  At the orphanage the children were cared for well, it was clean and spacious.
They seemed happy with their home and everyone pitched in to prepare meals and they look after the younger children very well.
The building is 3 storey's high but at some stage must have been abandoned because the building looks unfinished. They have built rooms inside, and designated areas for meals, kitchen, music, schooling, dorm bedrooms for boys and girls and prayer. My daughter and I gathered up all her clothes that didn't fit her any more and packed them into a large suitcase and carried them over to donate to the orphanage.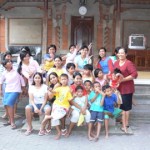 You get to sign your donation into the guest book. I went back a year later and donated more clothes and saw that many people visited and signed the book after me. Mostly donations of money. I recommend you visit this Orphanage with your kids and see for yourself the good they are doing for these children.
The name and address of the Orphanage is: Dharma Jati II Address – JI. Trengguli 80 Penatih Denpasar, Bali. They will make you welcome and show you around.