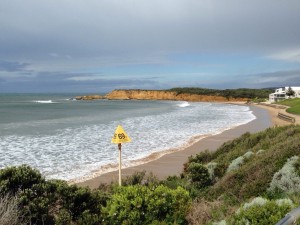 September School Holidays are a great time to get away, particularly the second week as everywhere is a little quieter. I first checked with my daughters mum that she didn't have any existing plans.  It is never a problem unless there is something already locked into her calendar. Whenever I plan a trip away I always get in early with plenty of notice. I have also locked out a long weekend in February (not my normal weekend) but because I plan ahead and have given plenty of notice it's not a problem,  I am also happy to reciprocate if requested.
These school holidays we have gone to Torquay in Victoria. Its on the west coast and known for its surfing, they hold the rip curl Easter surfing pro events at Bells Beach. I booked in advance the sea-view cabins at the Torquay foreshore caravan park. I booked online after seeing a friend's Facebook posts that looked so good.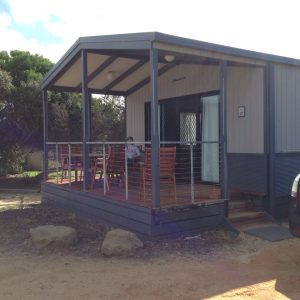 When I arrived I found there were premium positioned cabins and then the other cabins. I was allocated to the "other" cabins. Still in the same area but not absolute beach front which is what I was expecting. There was also the promise of BBQ's provided on each cabin balcony (as per the online photos), however, there were no BBQ's…  I went to reception and queried this and they said they just took them off the balconies because of the rust and maintenance required?
They said we could use the communal BBQ's? But there is a big difference in my mind between private and communal.
With all of this being a bit disappointing on our arrival, I chose to practice what I preach "Life is 10% what happens to you and 90% of how you react to it" so I sucked it up and got onto having a good time – one on one with my daughter.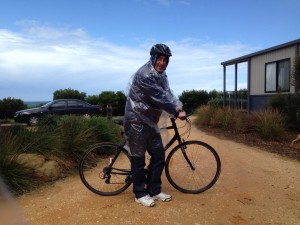 We brought our bicycles with us and rode along the beach track and into the main township. We also went for walks, lounged around watching TV and playing iPad Scrabble. I could not believe that my daughter was triple my word score until i caught her using the "best word" button 🙂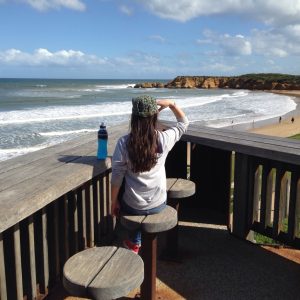 Found the best cafe located right on the back beach where each day we walked to get a latte and hot chocolate Mmmm.
The weather has been wild, I thought the roof was going to blow off from the high winds . On the first night, my daughter called out in the middle of the night to tell me she was scared (I don't blame her, it was very loud). We have enjoyed the time together just stopping for a week and spending quality time without the pressures of work and busy schedule. Would recommend it to anyone.