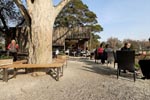 BREAKFAST BIKE RIDE
Park you car along Alexandra Ave (opposite Botanical Gardens) and take the Yarra river bicycle trail to KANTEEN, stay on the the southern side of the yarra, its an easy ride for all levels and only approx 2km from your car. Once you cross under Church street-Chapel street, you only have a couple of hundred meters to the cafe.
A great breakfast location on a Saturday or Sunday morning, located on the S bend of the Yarra river.  It used to be an old toilet block and now converted into a great cafe.
Where: 150 Alexandra Avenue, South Yarra, VIC 3141
Contact: 03 9827 0488
Website: http://www.kanteen.net
Open: Breakfast Monday to Saturday 7.00am to 3.00pm
Breakfast Sunday 8.00am to 3.00pm
Payment: Cash & Efptos
Diet: Vegan, Soy
Seating: Inside and outside
Kids: Welcome
Pets: Welcome
NOTE: A nice place but a little pricey, expect to pay approx $20 a head.