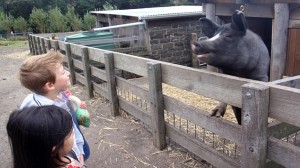 top twelve tips from the nannies
School holidays often provide an excellent opportunity for dads to spend quality time with their children… nevertheless everyone can also go a little stir-crazy!
With their years of experience in entertaining children all day, the nannies (in-home childcarers) at Government-approved agency Placement Solutions have put together their top twelve tips to make the most of school holidays in Melbourne, without going broke.
ArtPlay
All at free or affordable prices, the kids can explore their creative side at ArtPlay, Birrarung Marr (behind Federation Square). Funded by the City of Melbourne and other partners, the centre runs more than 300 workshops, events and performances each year with children working with professional artists. Ensure you book ahead for special programs or alternatively check out the 'free stuff to explore' such at the ArtPlay Backyard. The Centre caters for babies through to children aged up to 12 years of age; Wednesday to Sunday, 10am to 4pm.
www.melbourne.vic.gov.au/artplay
Library at the Dock
This new Library in Docklands only opened on 31 May 14 and as part of the Melbourne Library Service, it supports gaming culture. Library at the Dock offers the latest games and consoles free to the public to experience and learn about the many aspects of gaming. From 13 June to 8 July on Tuesdays and Thursdays, 11am to 1pm, the venue is hosting the 2014 Soccer World Cup Competition on PS4. Open to all ages, kids can get a team together, select their country and take part in this gaming challenge (and potentially win some prizes). Register online.
www.thatsmelbourne.com.au
Your local library
Check out your library for its calendar of events – which are usually free – such as storytelling, book discussions, and even children's theatre. In the city, State Library of Victoria is holding the free exhibition 'Once upon a time: a world of children's picture book art' until 31 August 2014. See classic characters like Blinky Bill and the Magic Pudding, as well as fun favourites such as Miffy. The kids can view original drawings, dummy books and videos about the artworks to discover the magic behind creating illustrated stories then create their own story with a free activity booklet.
www.slv.vic.gov.au
Belly Dancing at Fed Square
The whole family can shake their groove thing at The Atrium at Fed Square on the second and fourth Thursday of each month from 12.30 to 1pm. The free belly dancing lessons are led by professional instructor Trisnasari, no bookings are required and all ages are welcome.
www.fedsquare.com
Friday Night Fireworks at Docklands
Enjoy free music, entertainers and an incredible fireworks display at the Piazza at Docklands on 4 and 11 July. Festivities kick off at 6pm and the fireworks are at the family-friendly time of 7pm.
www.thatsmelbourne.com.au
Child-friendly cafés
For the price of a coffee, enjoy some priceless relaxation at one of the many child-friendly cafés around Melbourne. Some of our nannies' favourites include: Miss Marmalade, Brunswick – as well as amazing food and beverages, Miss Marmalade has a kids' menu, small play area and baby change facilities; Little Tommy Tucker, Bentleigh – with a shelf full of toys and a kids' menu, this is a popular spot for locals; Birdy Num Nums, Carlton North – the large, covered courtyard at the rear features a sandpit and a variety of toys; Lulabelle's, Camberwell – this gorgeous pastry shop and café features giftwares, babywares, toys to entertain the kids, and change facilities.
Victorian Farmers' Markets
Enjoy the fresh air and ambience at one of many Victorian Farmers' Markets held each weekend at different locations around Melbourne. Usually requiring a gold coin donation, the markets are a great opportunity to buy fresh produce and often provide a free petting farm as well as other attractions for children.
www.vicfarmersmarkets.org.au
MSO Family Jams
Anyone six years and over can jam with the Melbourne Symphony Orchestra (MSO) for free on 28 June at Federation Square. Bring your own instrument (or borrow one of MSO's) and work together during the fun hour to develop an original piece of music. Each workshop culminates in a performance open to the general public. Bookings are necessary.
www.mso.com.au
City Circle Tram
For a free tour of Melbourne city, the City Circle Tram is a convenient way to see the sights of central Melbourne and Docklands while experiencing a ride on the charming, heritage trams. An audio commentary provides details of city landmarks and major attractions and you can hop on and off as you like. Trams operate between 10am and 6pm from Sunday to Wednesday and between 10am and 9pm every Thursday, Friday and Saturday. No bookings are required.
www.yarratrams.com.au
Port of Melbourne Boat Tours
A free boat tour of the Port of Melbourne will exhilarate the kids as they see massive ships and cranes up close, and the port's most historic facilities. The tours usually run on the last Sunday of each month so spaces are limited and bookings are required. Round-trip tours leave from Gem Pier in Williamstown and Victoria Harbour in Docklands and last from 60 to 90 minutes.
www.portofmelbourne.com
Collingwood Children's Farm
Open every day, this is your child's perfect opportunity to get up, close, and personal with a range of fuzzy, feathery and furry creatures. Just $16 for the entire family (two adults and up to four children), the kids can also see cows being milked and enjoy a picturesque setting at the Collingwood Children's Farm in Abbotsford.
www.farm.org.au
Heide Kitchen Gardens
The fifteen acres of spectacular gardens at Heide in Bulleen will give the kids plenty of space to run free and also learn about fresh produce through the amazing kitchen garden adjacent to the original farmhouse. The Gardens & Sculpture Park are open to the public and the kids can enjoy a range of free activities during the school holidays such as 'Architecture Detective' and 'Art Detective'. Museum admission is free for children under 12; Tuesday to Sunday, 10am to 5pm.
www.heide.com.au
Placement Solutions is a Melbourne-based niche recruitment firm specialising in in-home childcare, also known as nannies and household management. The government-approved agency has been operating for 25 years and is a member of the International Nanny Association and the National In-home Childcare Association. www.placementsolutions.com.au