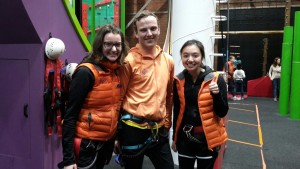 Nothing better than finding a good idea just became great! Well that is exactly what has happened to Indoor Rock Climbing. Move over because Clip N Climb has arrived and its  great fun 🙂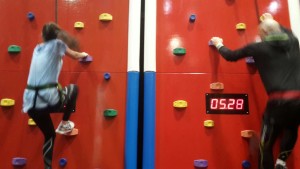 I went along with my daughter on a Saturday morning and we were happily surprised to find an indoor venue that was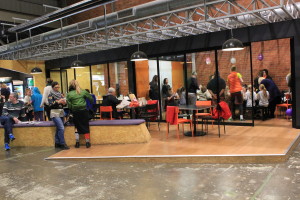 colourful, adverturous, well organised, fun, unusual climbing walls, friendly, and with happy staff members. Initially i thought "is this a place for under 10 year olds"? there was a kids party going on in one of there party rooms and it was hard to hear anything over the screaming and singing but it was all good fun.
They have a briefing area outside of the main climb area, this
is where they take everyone who will be climbing through a safety briefing, It was conducted well and simple to understand for both children and adults.
I asked the staff members is it always this young? They said Saturday morning is but they tend to get older children (12+) and adults in the afternoons and also adults after work. They even cater for adult corporate team building events, school sports excursions and parties.
There is a cafe, the coffee was ok, they have snacks, drinks and ice-creams.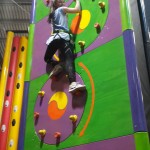 The main difference with Clip N Climb is that you do not need someone standing at the bottom of the wall belaying you. You are connected the same way with a karabiners but your rope is through a retractable mechanism on the roof. It first there is the "trust" factor but it all works perfectly.
My daughter summed it up perfectly:
I loved it because my Dad gets to climb with me and we had lots of fun together, we even had a race on the double timer wall…I won! haha
Safety is a priority and everyone gets checked, even Dads 🙂 There are so many different styles of climbs that make you want to climb every one. They have "The Leap of Faith" OMG that's an experience.
Check out there website for more details Clip N Climb a highly recommended activity to do with your kids.
Clip N Climb
44 Murphy Street, Richmond, Melbourne
03 9421 6600
funup@clipnclimbmelbourne.com.au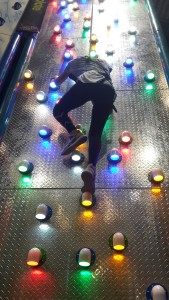 Open hours
TUE – THU 10am – 7pm
FRI 10am – 8pm
SAT 9am – 8pm
SUN 9am – 7pm
School holidays
MON – THURS 9am – 9pm
FRI – SUN 9am – 10pm