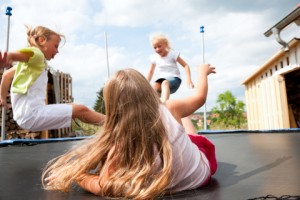 To keep the kids happy, there are many ways in which they can have fun at home. Entertainment at home costs nothing. It's also a great way to encourage kids to have their friends over or if life has been hectic, some solo time may be just what is needed to recharge.

A sleep over or a play date
Having a friend for a sleep over is exciting! You can put mattresses on the floor to make it seem special or even pitch a small tent or make a cubby inside. Torches, dvds, food and make believe will make this fun entertainment. Children always play well together, so organise a play date at home and the kids will make their own. Having a couple of organised activities on hand might be a good idea too.
Baking in the kitchen
Kids are always interested in what goes on in the kitchen and love being 'helpers'. They love to stir and add ingredients. This is an ideal form of entertainment no matter what their age.  Younger ones can have a go at stirring or can decorate cakes or cupcakes once iced. Older kids can measure and add ingredients. The end baked result can then be enjoyed by all!
A craft day
Always keep a box for collecting interesting things like plastic lids from jars, wooden ice block sticks, empty toilet rolls, scraps of material even if you have to cut up an old piece of clothing, old wrapping paper, etc.  This is a challenge that will make you look at everyday items very differently! Children love creating. This activity will encourage them to use their imagination. Make sure to have child friendly glue, sticky tape and coloured markers on hand. Their crafty treasures will then be displayed with pride.
Outside play
It doesn't matter what the weather is like, kids love running around and playing outside. You could organise a scavenger hunt, where you hide items in secret places around the yard.  Give them the list of items to be found and listen to their squeals of delight as they find each item. A treat can be given as a reward for the child who finds the most items on the list. Playing on a trampoline or swing set will also give them endless entertainment.
Pool party
If you are fortunate enough to have a pool, this is a great way to entertain kids of all ages. For younger ones, parents may need to stay. Children love making up their own games in the pool or your could provide a selection of floating games such as pool volleyball, dive rings or other inflatable toys.  Make sure to supervise the pool antics at all times and make sure to have a good supply of food on hand. Swimming always makes kids hungry! 
The goal of entertaining kids at home is to tire them out! Children have so much energy! This is all part of their growth and they will develop through play which stimulates them mentally as well as physically. Let children be children while they can.  They may want to show you a performance they have choreographed themselves or you may hear them acting out childhood games.