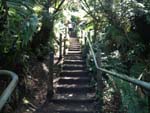 I had a great weekend and wanted to share it, we visited the "1000 steps" walk, I was surprised how popular it was! we had a lot of  fun and although we stopped only twice for a brief rest, we got to the end and felt like we had accomplished something.   In parts you have people walking past you coming the other day and some crazies running it, but everyone just moved to the side and it all worked well.  It felt like we were in a rain forest, the fresh air and great smells were worth the trip.  Definitely worth doing if your in Melbourne or planning to visit Melbourne.  I have noted the details of the walk below:
Distance: 3km – 1.5 hr return
Grade: Steep (reasonable fitness required)
There are plenty of children doing the walk as well as serious walkers, hikers and runners. The first lot of walkers can been seen around 6am and there is a steady flow of walkers all day. It would not be unusual to find 100 walkers spread out over the length of the track.
Address: Take Burwood Hwy out to Upper Ferntree Gully, then take the first left onto Mount Dandenong Tourist Road (approx 25m from rail bridge). Take the first left at the National Park sign (about 25m from the turn off) – it looks somewhat like a service road. Then take the road to the top or as far as you can go closest to the picnic ground. There are signs that direct you to the start of the Kokoda track and 1000 steps.
NOTE: Don't forget to take plenty of water and a snack in your backpack.
Website: http://www.parkweb.vic.gov.au
Created in the early 1900s the 1000 Steps Walk was originally made from the trunks of tree ferns laid along the wetter areas of the track to make the climb a little easier. These were replaced by wooden palings before the more permanent concrete steps were installed in 1950.
The Victorian veterans of the Kokoda campaign adopted this park as their memorial site in 1998. The similarity of the walk to the first 100 metres of the Kokoda Track in Papua New Guinea resulted in the establishment of the 14 plaques along the
walk, dedicated to those Australian Military Forces who fought and died on Kokoda. The 1000 steps represent the "Golden Staircase" a name given by Australian soldiers to the 2000 steps cut by the Australian Army Engineers and others into the
track between Uberi and Imita Ridge. The 'Kokoda Track Memorial Walk' represents an area of historical significance and every effort is undertaken to retain this heritage.