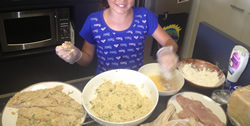 If your kids are anything like mine and i think most are, they are fussy eaters.
Until recently i threw out a lot of everything I cooked for my daughter, mostly, when I was trying to introduce her to different foods.  She was stubborn when it came to trying something new, which I find strange because I am not a fussy eater nor is her mother?  AND then I got Matt Preston's "100 BEST RECIPES" for Christmas.
I cooked Jackeroo pie and Chicken Schnitzel and Coleslaw and she asked for more on both occasions.  I believe the secret to getting around a fussy eater is to involve the kids in the cooking process. I was so impressed with the change in her eating habits that I contacted Matt and told him about it.
Matt sent the following message to all our dads online friends:
Few things give me more joy than cooking with kids. Few things also take longer to clean up but there's no doubt that this is one way round the fussy eater in the family. What they've cooked, they tend to eat!
Matt Preston
Here is the recipe she likes the best so far…
Chicken Schnitzel and Coleslaw
2 large chicken fillets (cut in half length ways)
160g or 2 cups of fresh breadcrumbs
40g 1/3 cup of finely grated parmesan
zest of a lemon
1/4 cup of finely chopped parsley
freshly grounded black pepper
1 egg, beaten
125ml 1/2 cup of milk
plain flour for dusting
olive oil for frying pan
2 lemons cut into wedges to serve
Coleslaw
1/4 of a savoy cabbage
1 carrot shredded
1/2 red onion, thinly sliced
235g 1 cup good quality mayonnaise
1/2 bunch parsley leaves, washed and dried
40g 1/4 cup currents
To prepare the schnitzels, beat the chicken until flat between two pieces of plastic wrap. Mix the breadcrumbs with the parmesan, lemon zest, parsley and pepper. In another bowl, whisk together the egg and milk. Dust the chicken with flour, dip it in the egg wash and coat with the breadcrumb mix. Place in the fridge for 30 minutes to allow the breadcrumbs to set.
Meanwhile, to make the coleslaw, mix the cabbage, carrot and red onion in a medium bowl with enough mayonnaise to bind. Set aside for 20-30 minutes to soften.
Heat the oil in a shallow pan and cook schnitzels for 4-5 minutes on each side to golden. Drain well on paper towel. Keep your schnitzels warm while you cook all the fillets.
Toss the the coleslaw with the parsley and currants, pile onto plates with the schnitzels and serve.
Let us know how you go, You, your kids and guests will love them! We even play the "Masterchef" game and score the dish on – taste and plating up appearance 🙂 On this dish I got a 10 for taste and a 7.5 for appearance! I obviously have some work to do?