You will discover a whole new world of keeping in touch.
There has been some previous posting on the topic of "keeping in touch", we thought another good way is to use Skype.  Skype is a software application that allows users to make voice or video calls over the Internet for free.  It is as simple as creating a free account with Skype.  You simply log on, select "Get Skype" from the home page and choose the computer system your using from the drop down menu i.e Windows or Mac?.  Follow the prompts, download and Skype runs a video tests and audio tests and then you are set to go.
Its a good idea to include a set of head phones so that you can chat without the worry of interruption.  Its that easy!
If you can, set up your child with their own Skype profile (It just needs a name and email account only)  Don't be too worried about the profile info, there are ways you can keep their details private i.e. don't fill out the profile info.  You can take extra precautions and now it might be a good time to discuss Internet safety.  Some other tips on Internet safety are as follows:
Parents should monitor their children while they are utilizing Skype.  If necessary, keep the computer in a common area, like the living room, or if the Skype is only for communication between yourself then you should have no concerns. They should turn it on to accept your Skype and off when you have finished.
Discuss "stranger danger" with your children, especially how to avoid contact with strangers online and what to do if one tries to communicate with them on the computer.
Make sure your child's account is protected with a unique, long password that includes a combination of letters numbers, and characters.
Update your privacy settings for receiving communications. For a PC, open Skype and click "Tools." Then go to "Options" and "Privacy." On a Mac, open Skype and click "Preferences" and then "Privacy."
If you want to keep it as private as possible, leave your profile completely blank.
If you think your account may have been compromised, change your Skype password immediately.
If a questionable incident occurs (like the one described above), contact your local authorities.  Be sure to save all pertinent information for the police, such as the predator's user-name, time and date of the incident, and any other details about the conversation itself.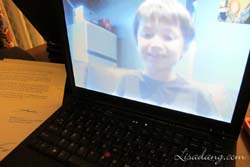 The Equipment
If they have complete access to a computer that's great, if they don't, you may be in a position to purchase a small laptop for them with internet access and built in camera are usually standard.  Laptops can be relatively inexpensive these days and a WiFi remote Internet cards are pretty cheap.
Lap-tops can be sourced through Officeworks or JB Hi FI for as little at $350. A wireless WiFi card can be as little as $15 a month through Dodo mobile broadband and if it is only used for your Skyping then that should be completely adequate.  You will be able to set up both your own and your child computer, chat and get approval from their mum to use Skype during the week  and if all is agreed to then it's the next best thing to being there!