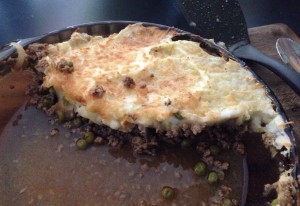 OK here is a meal that everyone will looove. So much so that I wanted to share the recipe with you 🙂  It's out of one of my favorite cook books "Matt Prestons 100 Best Recipe's"  called Jackeroo Pie. It's made with Lamb mince. If you use beef mince it turns into cottage pie. It was eaten up pretty quick tonight, here is the recipe…
Ingredience
3 tablespoons Olive Oil
500g lamb mince
1 large onion
6 spring onions, finely sliced – white and greens separated
150g (1 cup) frozen peas
2 tablespoons tomato ketchup
1 teaspoon Whorcesterhire Sauce
2 teaspoon Vegemite
500ml (2 cups) chicken stock
salt and pepper to taste
1 1/2 cups of cooked mashed potato
1/2 cup of grated parmesan cheese
Butter as much as you think it needs
Preheat oven to 180c
Heat 2 tablespoons of oil in a heavy-based pot over a medium heat. Turn up the heat and add the lamb mince and cook, breaking up any lumps with a wooden spoon, until brown. Stir in vegemite. Remove mince from pot and set aside in a separate bowl.
Lower the heat a little, add the remaining olive oil to the same pot and add the onion and spring onion whites. Cook for 3-4 minutes until softened. Mix in the peas, tomato ketchup, Worcestershire sauce and thoroughly stir through.
Return the lamb mince to the pot and mix through onion and peas, add stock, season with salt and pepper.
Mix the green chopped spring onions through the warm mashed potatos.
Place the lamb mince into a pie dish. There will be more juice from the pot than is needed. Scoop out the bulk of the pie contents and use as much juice as you feel is necessary for the dish. The rest of the stock can be discarded.
Spread the mash potato over the top of the pie and sprinkle the Parmesan cheese over the top of the mash.
Place into oven for 20 minutes or until cheese is golden brown.
Remove from the oven and enjoy 🙂