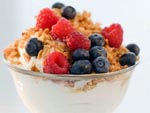 This is a winner for both adults and children, Summer or winter favorite. There are so many different styles of yoghurt on the shelf, just choose the one you and your kids like and enjoy.
Ingredients
strawberries, hulled and quartered
bananas, peeled, sliced
watermelon, chopped
apple, chopped
light plain Greek-style yoghurt
1 tablespoon honey
3 tablespoons of toasted muesli
Method
Combine strawberries, banana, orange and apple in a bowl.
Combine yoghurt and honey in a separate bowl.
Spoon fruit salad into bowls. Top with yoghurt mixture and toasted muesli.
Bowl up and watch it disappear.
Enjoy! The kids will love it.