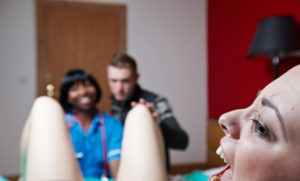 If you like eating sausages, there is a saying that goes…Don't look how the sausage is made, it will ruin everything.
We grow up learning about childbirth and never really connect the dots that when it happens to our partner, it's a very full on confronting experience and not for the lighthearted.
Childbirth for Men can have the same effect as its a little hard to look at the vagina the same way anymore! Something that we once worshiped has been torn apart and beaten up, lets face it and be honest, it is not a pretty sight and very unsexy. It can take a while to get those images out of our mind, if ever at all? There are some women who would worry about what their man thought of them sexually after seeing childbirth.
We have complete admiration for the resilience and strength that women have which allows them to go through childbirth, but if all we can do is hold there hand and not add much more value than that, then I vote we wait in the waiting room and let their mum's, sisters, aunties, cousins do the hand holding.
Some experts have said that childbirth is actually more difficult for the women when the man is present? The birth tends to take longer and is more painful if we are in the room.
Can it effect our sex life? Let's face it, there are so many things that we do in order to make sex enjoyable. Many men and women are slightly shy and ease into sex through foreplay both physically and mentally. Seeing childbirth should be one of those things that we keep private to preserve the intimacy, imagery and fantasy of sex.
My Dad told me that in his day, men were not allowed to be in the birthing room. When the baby was born, the mother and baby rested for a bit and the dad entered the room a little later. I don't see anything wrong with that..at all!
Some women will say that you are missing out on the greatest event of humankind, yes ok but OMG!  If you both agree that it could be better to wait outside, then there is nothing wrong with that strategy at all. If you are needed and wanted in the birthing room, stay up the right end…I warn you!
I would think that many men & women would agree with this, do you?