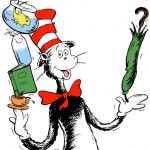 Life quotes from Dr. Seuss
"Today you are You, that is truer than true. There is no one alive who is Youer than You."
Sometimes the most simplest truest and most important messages can be found and read at just the right moment when we need them…Is this that moment for you? You found Dads Online for a reason…
Why fit in when you were born to stand out
You have brains in your head. You have feet in your shoes. You can steer yourself in any direction you choose.
Be who you are and say what you feel, because those who mind don't matter and those who matter don't mind.
You'll miss the best things if you keep your eyes shut.
A person's a person, no matter how small."
Unless someone like you cares a whole awful lot, nothing is going to get better. It's not.
Sometimes you will never know the value of a moment until it becomes a memory.
Don't cry because it's over, smile because it happened.
Only you can control your future.
Today I shall behave, as if this is the day I will be remembered.
Life's too short to wake up with regrets. So love the people who treat you right, forgive the ones who don't and believe that everything happens for a reason. If you get a chance, take it. If it changes your life, let it. Nobody said it'd be easy, they just promised it would be worth it.