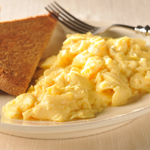 Eggs of all shapes and recipes can be used to create a scrumptious dish your yourself, friends or kids.
Ingredients (serves 2)
4 eggs
1/4 cup pure cream
10g (tablespoon) butter
Buttered toast
Method
Better to use a non-stick frypan
Whisk eggs and cream together in a bowl until combined. Season with salt and pepper.
Melt butter in a frying pan over medium heat. Pour egg mixture into pan. Using a wooden spoon, drag set egg towards centre of pan so remaining uncooked egg comes in contact with base. Cook for 2 minutes or until creamy curds start to form. Take pan off the heat.
Serve eggs on toast. Be careful not to overcook eggs, as they will continue to cook after being removed from pan.
Enjoy!