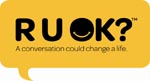 R U OK? Day, Thursday September 12th 2013 is a national day of action dedicated to inspiring all Australians to ask family, friends and colleagues, 'Are you ok?' By regularly reaching out to one another and having open and honest conversations, we can all help build a more connected community and reduce our country's high suicide rate.
R U OK? Day is on the second Thursday of September (12th September 2013).
More than 2,200 Australians suicide each year and men are around 3 times more likely to die by suicide than females (ABS 2012). For each person that takes their life, another 30 people attempt to end their own life (SANE Australia).
Most people don't openly share their feelings, particularly if they're struggling. The best thing we can all do is regularly talk to the people we care about – regardless of whether they are at risk – because connection is good for us all.
In the time it takes to have your coffee, you can start a conversation that could change a life.
Dads, who will you ask?