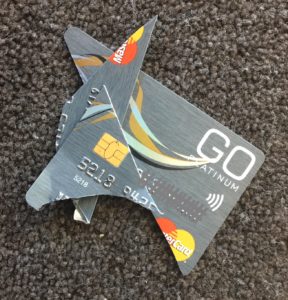 Over Christmas I read a book by The barefoot investor. It made a lot of sense, more sense than I have heard before about getting on top of finances.
If you're having trouble getting control over your money, don't worry, there is a way of getting rid of your debt & loans and enjoying financial freedom again.
Go buy the book, its online but a quick simple step that hooked me was to firstly cut those credit cards up. Secondly, I have been juggling my monthly salary and paying as much off my multiple debts as possible. I had a couple of credit cards, a car & motorcycle loan and a mortgage. If you thought trying to paying as much as you can off all of them was the answer…wait a sec, keep reading.
Put your debt/loans into a list from smallest to largest. Go on, all of them. Your credit card debt is the most important. Concentrate on the smallest debt first and from now-on pay the minimum off all of the debts (accept the smallest) Work to knock off the smallest first, then the next and the next. It might take a little while but by focusing on paying one (1) off at a time you will get wins and eventually pay them all down to zero (Freedom).
I wasn't thinking that way, i thought by adding a little extra to all of them would reduce the debt but really it was going to take forever to pay them off. Focus on paying extra to the smallest debt and then working through the rest will clear debt quicker in the right order and start to free up your cash.
The important key here is to cut up the cards and only live on what you can pay cash for, a good lesson for our kids.
The barefoot investor has a really good formula for splitting up your salary each month and saving for the future and allowing yourself to splurge too.
Note: this is not a paid advertisement for the barefoot investor, i just really liked the book and the practical ideas he had.
Can I say, if you need your credit card to fill a gap at the end of the month, you need to adjust your lifestyle, and reduce expenses so that your monthly salary covers everything.
Go on, make 2017 the year of clearing debt and enjoy the freedom of having money.
#barefootinvestor #theonlymoneyguideyoulleverneed #scottpape www.thebarefootinvestor.com