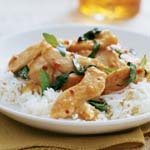 Ok Dads, this is a bit of a favorite, everyone needs a good chicken stir fry in the recipe book. The kids will love this meal, as its a simple kids meal that gets eaten.
Ingredients (serves 4)
1 tbs olive oil
500g chicken breast fillets, cut into strips
1 white onion, diced
6 celery stalks, trimmed, thinly sliced on the diagonal
250g green beans, topped, cut into 4cm lengths
1/4 cup of mushrooms (optional)
1/4 cup (40g) raw almonds
3 cups steamed rice, to serve
Method
Heat half the oil in a wok or large frypan over high heat. Stir-fry the chicken, in batches, for 1-2 minutes, until golden.
Add onion and stir-fry for 1 minute. Add celery and beans, and stir-fry for 1-2 minutes, until just tender.
Return chicken and nuts to wok . Coat with a sesame and ginger sauce (kids love the taste) Stir-fry for 2-3 minutes, until the chicken is cooked through and coated in the sauce.
Serve with rice.