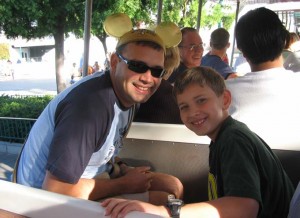 When you've got the children over the holiday periods, it can always seem like an issue – where do you go when you've got to please adults, teenagers, pre teens, babies and everything in between?
These holiday destinations are five of the most dad and child friendly places around the world, they'll cater for everyone no matter what age they are!
Disneyland
Yes, this one may seem very obvious to anyone that doesn't live under a rock – and you may be thinking that it's overrated but it certainly is not! Disneyland truly is the happiest place on Earth, and if you've got children this is definitely the place to take them. Disneyland can make even the moodiest of teenagers feel like a little kid again – they'll be running around the park getting photos with their favourite characters before you know it. It's not only for kids either – adults will enjoy reminiscing on the days of old, growing up with Walt Disney and his little mouse. Don't forget, there's also California Adventure Park right next door – you can go visit the creatures under the sea in Ariel's Grotto! Disneyland has something for everyone – no one in your family will feel left out!
Turtle Beach Resort
If you fancy a trip to the Gold Coast, Australia, Turtle Beach Resort is the place to go! If you're looking for a relaxing holiday to take your kids on (but want some time on your own as well) they can go to Club Turtle and enjoy the facilities there – an Xbox, Wii and multiple movie screenings are available to entertain your kids for hours.
New York City
It may seem strange to take your kids to the city that never sleeps, however New York City is so much more than that. New York is the cultural hotspot of the world, what with it's multitude of museums and art galleries, Broadway, Central Park and of course the Bronx Zoo which is home to one of the largest butterfly gardens in the world (it's home to over 1000 butterflies and moths)! Take your kids on a cultural journey like no other – watch Matilda on Broadway then take a walk through Central Park; whatever you do, your trip to New York will be unforgettable!
Lapland
If you're looking for a place to go this Christmas, here it is! Finnish Lapland is, of course, home to the one and only Santa Claus! Here, you and your kids can visit the home of the big man himself, as well as go on a sleigh ride, visit the post office, see the Northern lights and visit the ice hotels! For a holiday full of Christmas spirit, be sure to check out this Finnish delight!
Fiji
Fiji is one of the most beautiful islands this world has to offer – why not take a visit with the kids. Fiji Islands Resort assigns each child a nanny to ensure that you and your kids enjoy yourselves as much as possible – that's always a great place to go! However, there are plenty of resorts around the island that will accommodate you and your family and allow you to relax and rejuvenate on this beautiful island paradise!
There are plenty of places to go around the world that will allow you and your kids to have a relaxing and fun filled holiday! Before you go, check out the Samsonite luggage deals at Luggage Direct.
Good luck, and happy holidaying!