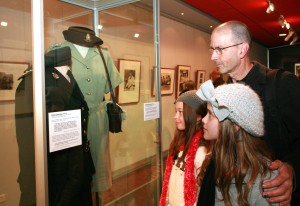 The Shrine of Remembrance is pleased to announce that the Easter 2013 School Holiday Program will be taking place at the Shrine from Saturday 30 March until Sunday 14 April.
The program takes families on a journey through Australian military history using a newly developed Family Explorer Trail around the Shrine building and gardens.
Discover the spirit of ANZAC by stopping at eight stations around the Shrine and taking part in a variety of inspirational and educational activities for families to do together, such as Animal Matching, Draw It and Find-A-Word.
All families who complete the Explorer Trail receive an Explorer Trail Goody Bag and have the opportunity to enter into a prize draw to win a selection of children's books and gifts from the Shrine Shop, worth over $100.
"The Shrine of Remembrance is committed to providing an environment for all to learn about the sacrifice and sacrifice of Australian men and women. Families and children are welcome at the Shrine throughout the year and are encouraged to engage with the exhibitions and memorials, participate in the activities on offer and share any experiences their family or community may have had in war and peacekeeping." (Denis Baguley, Chief Executive at the Shrine of Remembrance).
When: Daily, Saturday 30 March – Sunday 14 April 2013 Time: 10am – 4pm
Program length: 45-60 minutes
Where: Shrine of Remembrance Visitor Centre.
Suitable for: Ages 6-12
Cost: Free, donations welcome.
More Information: 03 9661 8100, email reception@shrine.org.au or visit www.shrine.org.au
Media contact:Danielle Hitchcock, Marketing Officer: 03 9661 8102 / dhitchcock@shrine.org.au