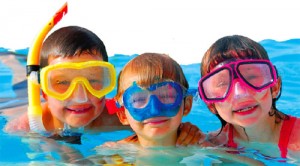 When it comes to an all round fantastic travel destination for the whole family, you can't look past the tiny island state of Fiji, located in the South Pacific. It really has so much to offer, no matter what your age group, or who you're travelling with. From Dads and kids, single backpackers, to mushy couples, to grey-haired retirees, there's a place to stay and something to do for everyone. This is especially so for families with young children. Fiji is the epitome of a "family friendly" holiday destination, and in what follows, we'll explain exactly why this is.
Family Friendly Resorts and Kids Clubs
Fiji is awash with resorts that cater to the needs of families. For example, many resorts provide in-house child care services and kids clubs; perfect for those times when mum and dad need some time alone. A good number also arrange a whole slew of activities for kids so that they too can have a great time whilst on holiday. Your kids can learn how to make boats out of coconuts, sing along, and play games like duck-duck goose. Of course, many resorts also have playgrounds, kid friendly swimming pools, water parks, and mini golf onsite. Head on over to an online travel agency such as www.myholidaycentre.com.au. and take a look at some of these family friendly resorts and hotels for yourself to see just what your kids can get up to on your next holiday abroad.
Activities for the Kids
Of course, outside the resorts there are also heaps of activities to keep the children occupied and having a blast. Why not take them to the Kula Eco Park where they can meet with endangered Fijian Iguanas and help hand feed some Hawksbill Sea Turtles? Or, if they fancy something a little more exciting, how about taking them on a jet boat ride, or parasailing? There's so much to do indeed. On those quiet days, there are countless stretches of sandy white beach where they can build sand castles to their hearts' desire.
Kids Eat for Free
Finally, many of the top resorts throughout the Fijian archipelago, including the Castaway Fiji Resort on Mamanuca Island, and the Fiji Hideaway Resort & Spa on the Coral Coast, Viti Levu, allow kids to eat for free (subject to different age requirements). Some even allow kids to stay for free (we're looking your way Sheraton Fiji Resort). No doubt this will help cut down on your holiday expenses and free up some much needed cash for either more activities, a fine dining experience, or just regular spending money. We're sure you'll find something to spend it on!
Fiji is a naturally stunning destination that's filled with some of the most friendly and hospitable people in the world. Not only is it a great destination to relax and unwind in, but there are so many activities and adventures fit for the whole family just waiting to be explored. So what are you waiting for? Rally up the family, assign packing duties, and have a trip of a lifetime to Fiji on your next family holiday.