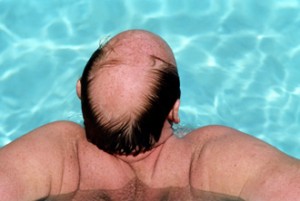 Look in the mirror, is your part expanding, your hair line creeping towards your crown? Answer yes to either of these questions, and you are in the company of thousands fighting the battle of the balding. For those with naturally thin hair, you are empathising with Sisyphus pushing a boulder eternally up hill. Fortunately, you have options.
Temporary tricks to permanent treatments, there are many things you can do to take your locks from limp to luscious.
Products
Get rid of the gloop. Let's be honest guys, the gunk you combed through your hair never made you look dapper anyway. Also ladies, you and your hairspray fumigation routine are responsible for the hole in the ozone layer. Truth is, the products in your bathroom cupboard are making your hair look flat and limp. Switching up your styling routine is the easiest way to stop drawing attention to your thinning crop. Swap to a volumising sea salt spritzer, root lifting mousse or a small amount of argon oil to eliminate the fuzz without weighing your hair down.
Nutrition
Think of yourself as a grass head, those messy holiday kids' projects full of lawn seeds and potting mix. The success of these little guys relied on you perfecting the trifecta of nutritious soil, stimulating sunlight and nourishing water. In the same way, what you put in your mouth effects what comes out of your head. To increase the lusciousness of your locks, focus on getting plenty of good fats. I'm not referring to the big mac you guiltily shoved down your throat at 11pm last night. Focus on foods filled with omega-3 fatty acids. Stock up on avocadoes, eggs and nuts for healthier hair.
Short Term Boosters
With an important event coming up, the only thing more stressful than deciding what to wear, is how to style your thinning hair. Straggly strands will make you look more Gollum than Gosling or Gomez. If your volume needs a temporary top up, your local supermarket or department store is sure to stock your desired solution. Hair thickening shampoos and conditioners pump up your hair by making the follicles swell. Don't expect a lion mane after one wash, but you can expect up to a 20% boost in volume.
Treatments
No amount of glorified hair mascara is going to mask an advanced receding hairline. If your mop needs a complete makeover, consider a long term treatment. Wigs can be a cheaper option, especially for those who are bald as a bowling ball. However, this solution comes with the potential threat of exposure if a strong gust of wind comes along, or you get a bit too physical at Friday night football. For something more permanent, investigate the rising trend, SeniGraft. Those with a fear of needles and scalpels may now rejoice. This magical solution is like a hair transplant without the surgery. According to experts at Transition Hair, it is a transdermal graft that seamlessly joins with your scalp. This options is going to burn the biggest hole in your pocket, but the return is confidence money can't buy.
Start your journey to a fuller head of hair by experimenting with the styling and temporary solutions. For further advice regarding your specific circumstance, consult your local doctor or hair rejuvenation specialist.