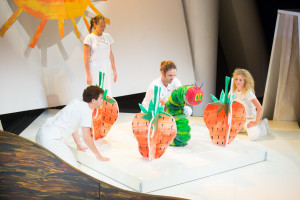 Hugely successful Australian stage show returns in 2016
Following sold out audiences to over 18 000 young people in 2015, the critically acclaimed The Very Hungry Caterpillar Show returns to select theatres in New South Wales  and Queensland in 2016.
This Australian show excites, educates and entertains new readers and first-time theatre-goers, while for those who grew up with these books will delight in experiencing one of the most popular children's books ever written.
"A KNOCKOUT SUCCESS"
The Daily Telegraph
The Very Hungry Caterpillar Show is based on the genius of children's literature, Eric Carle's incredible stories that come to life on stage in this enchanting show. The show features a menagerie of 75 enchanting puppets that faithfully adapts four of Eric Carle's beloved books  for the stage: The Artist Who Painted a Blue Horse, Mister Seahorse, The Very Lonely Firefly and, of course, The Very Hungry Caterpillar.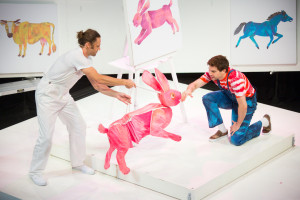 "I hope the performances will be enjoyed by many and that the colorful characters will bring comfort and joy to all who see the stories that have been so carefully produced. It is uplifting to see such beautiful and cheerful works inspired by my characters! I am delighted by the puppets, and am honored to work with the creative team – Thank you, for bringing my stories to life for the stage. I hope my books  – and this show – will inspire you and your imagination." Eric Carle
Producers Jonathan Rockefeller and Michael Sieders are both thrilled to be entrusted with transforming these beloved books into a theatrical event for children.
"Beautiful, rhythmic and faithful to the author's works …a triumph "
***** Timeout
"The Very Hungry Caterpillar is a seminal children's book, one that has introduced generations of children into the wonderful world of storytelling. And now, we have the opportunity to do the very same – to introduce a whole new generation to the story telling through theatre, for many this will be their first experience and we want to make it a magical one. To faithfully take a book that means so much to so many people, and create a new interpretation for the stage is both a privilege and an honour." Jonathan Rockefeller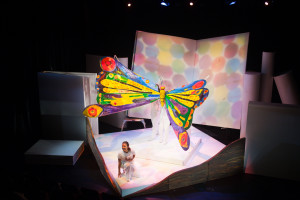 The Very Hungry Caterpillar Show is an adventure into the world of Eric Carle, audiences are transported into a giant pop up book filled with amazing characters from an 8ft red crocodile, a life size yellow cow, an under water world filled with all types of sea creatures to a three meter beautiful butterfly and the hero of the show The Very Hungry Caterpillar.
The Very Hungry Caterpillar Show aims to excite new readers and new theatre goers, while taking every generation on a trip back into their childhood to reclaim their imagination.
There will also be a range of activities that will accompany the show including a selection of signed lithographs from Eric Carle Studios. These beautiful art works will be on display in the foyers. There will also be an activity zone for kids to stick around after the show.
"Children were beside themselves with delight and awe!"
Artshub
Presented by JWR Productions Australia & Michael Sieders Presents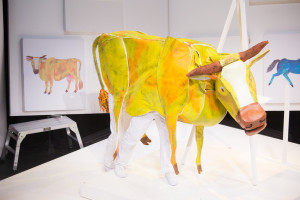 Created by Jonathan Rockefeller  Director Naomi Edwards Producer Michael Sieders  Set Designer James Browne Puppets created by Puppet Kitchen Costume Designer Andrea Espinoza Lighting Designer Nicholas Rayment Composer / Sound Designer Nate Edmondson and Steven Baker.
Casula Powerhouse
Friday 15th – Sunday 17th April 2016
10am & 12pm daily
6pm show on Friday 15th April
Riverside Theatres Parramatta
Tuesday 26th – Thursday 28th April 2016
10am & 12pm daily
6pm show on Wednesday 27th (GP)
2:30pm show on Thursday
Relaxed performance 10am Thursday 28th April 2016
Show Duration: 50 minutes
Children under the age of 2 are free but must sit on their parent/guardian's lap.
For all booking details please visit the tickets page at hungrycaterpillarshow.com