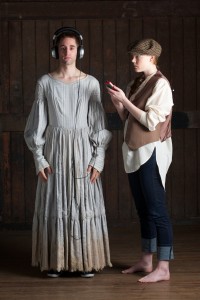 These spring school holidays Australian Theatre for Young People (atyp) in collaboration with Sydney Living Museums, Sydney Harbour Foreshore Authority & The Big Dig (YHA Ltd) are proud to present a head-on collision between contemporary performance and history created by over 40 young people in collaboration with some of Sydney's most exciting theatre artists and staged in some of Sydney's most unique locations.
Every city starts somewhere but Sydney's beginnings are truly incredible and those layers of history live on in this suburb today.  Thousands of years of aboriginal culture, a harsh convict settlement, two-hundred years of working class life, ships and visitors from all corners of the globe, plague, poverty, debauchery and grassroots solidarity.  The Rocks has seen it all.
Presented around and inside seven different locations, Quay to the City is a walking tour event that will take you on a theatrical adventure through Sydney's oldest and most fascinating suburb – The Rocks.  It works like this.  Pick up your ticket and map from The Rocks at our special pop up box office located at 140 George St (outside the MCA)then, find your way around, stopping along the way to enjoy short theatrical performances in unique historical locations.
Especially perfect for families over the school holidays, we invite you to take this unique theatrical tour through haunted alleyways and cobblestoned streets to experience The Rocks in a totally new light – as a canvas, a living space and an inspiration.   Who knows what you'll find!
Season

18 September – 5 October 2013 (

Wed-Sat 

7pm

, Sun 

5pm

, Wed and Fri 

11.30am

 (previews only)

Venue

Start off point: 

Pop Up Box Office at 

140 George St (outside the MCA)

Tickets

$15 groups of four or more, $20 concession, $25 full

Duration

Approx. 90 mins

Bookings

http://www.atyp.com.au/whats-on/productions/quay-the-city