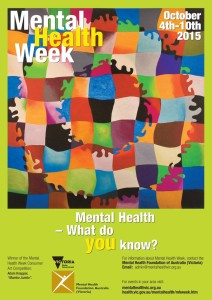 In 2015, Mental Health Week will run from Sunday 4th to Saturday 10th October. World Mental Health Day is marked every year on the same date: 10th of October.
Mental Health Week aims to activate, educate and engage Victorians about mental health through a week of interactive events across the state including an official launch, community festivals, art exhibitions, music, theatre and seminars.
From its beginnings in 1985, the week has grown to encompass hundreds of events and a multitude of individuals, community groups and service providers throughout the state.
Much of the effort of running Mental Health Week comes from dedicated volunteers committed  to promoting mental wellbeing, furthering knowledge about mental health and eliminating the stigma surrounding mental illness.
As co-ordinator of Mental Health Week in Victoria, the Mental Health Foundation of Australia (Vic) is delighted to have the active involvement and participation of state and federal governments, as well as non-government organisations and communty-based health and social impact agencies. We are pleased to be sharing the Week with the Victorian Government, along with many other mental health, health, education, recreation and support agencies.