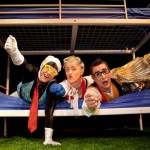 It's time to pull the capes out of the cupboard as the award winning kid's production KAPOW! flies into the Gasworks Theatre for a strictly limited run of shows.
KAPOW! will be held from 1-2 October 2013 for three shows only during the Gasworks Kids School Holiday Program and Melbourne Fringe Festival.
Winner of the Best Family Show in Melbourne Fringe Festival 2010, KAPOW! invites audiences into a comic book landscape, where they explore the world of the superhero and the inherent human desire we all have to be special and make a difference.
Jam packed with acrobatics, illusion and clowning presented in a highly visual comic book aesthetic, KAPOW! asks some seriosly heroic questions. Why do we desire to be superhuman? What are our secret, unnoticed abilities? What is your moral code? Should you (or should you really not) wear a cape?
This skilful and touching piece combines the exciting life of the superhero and the extraordinary stories of everyday people to create an energetic and superhuman show.
KAPOW! is just one of fifteen high quality activities for kids during the Gasworks Kids School Holiday Program. Please visit www.gasworks.org.au for full program and workshop information.
KAPOW! at Gasworks Arts Park
Dates: Tuesday 1 – Wednesday 2 October 2013
Times: Tuesday at 2:00pm, Wednesday at 11:00am & 2pm Cost: $18
Age: 4+ and their minders
Venue: Gasworks Theatre
Cnr Graham & Pickles Street, Albert Park VIC 3206 Melbourne, Australia
Bookings:
Online Bookings: www.gasworks.org.au (no booking fees for online purchases) Phone Bookings: 03 9699 3253 (+bf)
Visit www.gasworks.org.au for more information. Interviews and high res images are available upon request.
Media Contact: Cara Williams, Publicist
T: 03 8606 4208 / M: 0401 275 863 / E: cara@gasworks.org.au