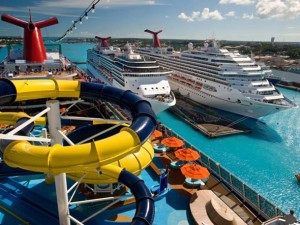 I have been thinking about a holiday for my daughter and I, something relaxing, enough to entertain both of us? Learning towards warmer climates, not too expensive and has to be child friendly. A couple of years ago we went to Fiji and I discovered that she likes kids club (a co-ordinated activity room with either games, movie or fun outdoor activities.
I guess there were plenty of kids of a similar age so it was a little more fun than just hanging out with dad all day 🙂 so it ended up being an every after dinner activity. We hadn't even finished our meal and I was getting "hurry up dad" i want to go to kids club". I must admit it was a nice break for a couple of hours after dinner and it tired them out before bed.
A friend of mine Robert, recently got back from taking his kids on a cruise and highly recommended it. He said it was amazing! I asked him if he thought it was child (dad) friendly and he replied "OMG" yes! He said there are cruise ship holidays that are designed for family fun opposed to others that might be designed more for the older or younger holiday makers. He booked his trip through Cruiseabout.
The family friendly cruise holidays he said includes:
Age appropriate on and off cruise ship activities,
A good variety of children's ages so your kids are guaranteed to make friends,
Meals to suit all those fussy eaters
Movies
Traditional cruise ship activities like pool games and lazing around the deck chairs
Kids club yay!
Tropical or Australian locations
Warm days and nights
Kids cruise at heavily discounted prices
The list is endless…
Working out which cruise to take he said he logged onto the dream holiday cruise for you and your family quiz which is a questionnaire that helps you select which cruise ship is best suited for you?
I took the Quiz and it recommended "Carnival Spirit" as the perfect cruise ship for my daughter and I. I will let you know how we go with photos and stories 🙂 Wish us luck!