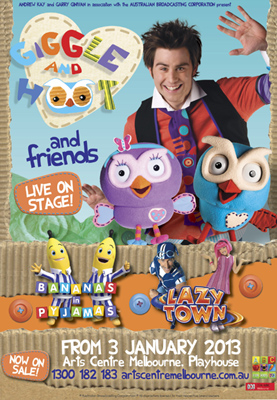 Giggle and Hoot and Friends
Live on Stage
Playhouse Theatre, the Arts Centre Melbourne
From 3 January to 18th January
Presented by Andrew Kay & Associates, Garry Ginivan Attractions in association with the Australian Broadcasting Corporation
Jimmy Giggle, Hoot the Owl and their best owl pal Hootabelle are coming to the Playhouse   Theatre for their first ever, live stage show "Giggle and Hoot and Friends" for a full-on 50 minute Giggle-liscious stage spectacular.  Giggle and Hoot will be joined on stage by your favourite ABC characters, Bananas In Pyjamas, and LazyTown.
Bananas in Pyjamas, those lovable pyjama wearing fruit B1 & B2, who will be up to their usual antics and bound to entertain with their humorous and whacky sense of fun.  Your friends from LazyTown, Sportacus the slightly above average super hero and Stephanie, will sing, dance and flip their away across stage with some awesome high flying acrobatics..
Adapted from the hugely popular ABC4Kids top-rating programs, it promises to be this year's summer family spectacular, packed with everyone's favourite songs, lots of dancing and colourful costumes.  Sing along and do the actions with all the characters!
The production is presented by Andrew Kay and Garry Ginivan in association with the ABC.   Garry Ginivan, Artistic Director, says: "We are absolutely delighted to be presenting Giggle and Hoot and friends in Melbourne for the very first time. The combination of four of Australian pre-schoolers ABC2kids favourite programs is guaranteed to put a smile of every child's face.
"Giggle and Hoot and Friends" Don't miss this must-see HOOT-TASTIC summer attraction for the whole family.
For details visit abc.net.au/abcevents
Playhouse, Arts Centre Melbourne
Jan 3 – 11am, 1pm & 3pm
Jan 4-18 – 9.30am, 11.30am, 1.30pm
Tickets: A-Reserve $44.90 B-Reserve $34.90
Children under 12months free
Bookings: 1300 182 183 www.artscentremelbourne.com.au