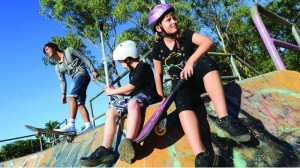 Shopping for kids can be hard work. More often than not, you'll be tempted to get something that will please you rather than impress your child. Don't worry; you really can do both! Here are some gift ideas guaranteed to make you the cool dad.
Skateboard with a twist
For the older kids, why not brighten their day with one of the colourful range of custom penny skateboards? They have two different sized decks, bright fun colours, crazy patterns, strong grip for extra safety, and best of all they encourage outside fun. Make sure you throw in some sleek kneepads and a helmet to keep new learners nice and safe, and you'll be the coolest adult around.
Silkworms
What better way to bring the outdoors inside than giving the gift of tiny pets! Silkworms are easy to raise, hardy against clumsy fingers, and, let's be honest – what kid doesn't want to show off a writhing mass of bugs to gross out their friends? Apart from looking like cool little caterpillars, silkworms can be a teachable opportunity. Kids can learn about lifecycles as they watch the silkworms spin cocoons and emerge as fluffy moths. With parents who are willing to go the extra mile, they can also learn some basic tenets of small business by selling them to a locally owned pet store, so other kids can enjoy them while they enjoy the pocket money.
Goldieblox
Targeted primarily at young girls, these story-driven building blocks can unlock the budding engineer in a young daughter or niece. Designed by a Stanford-graduate engineer turned entrepreneur, these toys aim to "disrupt the pink aisle and inspire the future generation of female engineers". Think of it as an extension of Lego or Meccano that ties into a story to create the 'why' behind a building project. Encouraging youngsters to reach their (gender non-exclusive) potential while having fun is a win in any education-focused family.
Water pistols
Now, this one needs a backyard for best results, but a park will do in a pinch. Water pistols don't have to be expensive or even from big brands at all! Why not head down to your local discount store and pick up a pack of water pistols and water bombs for a fun way to get everyone outside and active? Watching the adults run around playing like kids is a surefire way to put a big smile on a child's face.
Apartment-friendly Ant farm
You may remember having an ant farm as a kid, but not these ones! Ant farms have recently gone sci-fi chic, removing the mess and ick-factor to make a new bedroom friendly kit. The main difference is that instead of using dirt for your ants to tunnel into, Antworks uses a translucent blue gel based on a 2003 NASA space shuttle experiment (cool, huh?). The gel is full of nutrients and the ants can live entirely on the gel alone. No more scavenging in the garden or park for insect 'sacrifices'. However, you do need to find some ants of your own
What kind of gifts have been popular with the children in your life?