Scott Hone has toured from Melbourne to Montreal, Penrith to Palm Island, and New York to Nambour; galivanting across the globe as part of the Circus Oz touring ensemble. Now Scott is freewheeling around Australia, and into the School Holidays at Gasworks Arts Park with his unique children's show, Scott's BMX Trick Bike Show on Wednesday 11 & Thursday 12 April at 10am & 2pm.
Based around his BMX bike, the world renowned BMX trick bike rider, Scott Hone, will lead audiences on a real experience made of dreams. Although nearly everybody has ridden a bike, no one rides a bike like he does. Backwards on the front wheel. Frontwards on the back wheel. Frontwards on the front wheel backwards upside-down! Telling the story of his first bike all the way to joining the circus, Scott demonstrates how thinking outside the box and trying new things can lead you on a grand adventure through life.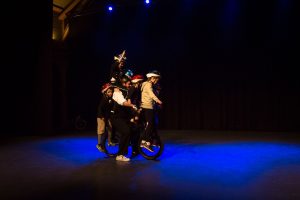 Created for Warrnambool's Fun4Kids Festival and performed across four states, Scott's BMX Trick Bike Show is aimed at kids between the ages of 5 and 13 and features an ambitious finale with five audience members joining him on stage to triumphantly ride the bike all at once. Now accompanied by beautiful virtuosic tunes from the exquisite Ania Reynolds (Musical Director, Circus Oz) and with his 8 year old son, Oliver Hone, joining him onstage Scott's BMX Trick Bike Show is certain to inspire the next generation of creative adventure-seekers.
Scott's BMX Trick Bike Show
Gasworks Theatre
Wednesday 11 April
Thursday 12 April
10am & 12pm