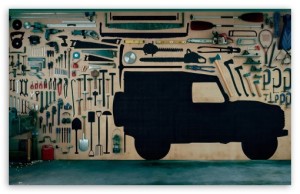 There are certain things that no home should be without. Chief among them are tools and implements for when you have to take home maintenance into your own hands. But which tool shed essentials should take priority? Here's a handy checklist to get you started.
1. Power Drill
The power drill is one of the most useful, versatile tools in the world, and it's shocking how many people don't have one. You can use them as a high-powered screwdriver, certainly, but – with the right attachments – you can get them to do a whole host of other things like sanding, mixing paint, and powerful brickwork hole-punching. "Drills come in all shapes, sizes, and degrees of power, so talk to a specialist like Ryobi or head down to your local hardware store to find out what sort of drill is right for you."
2. Toolbox
A properly outfitted toolbox is just as essential as a proper power drill. Your toolbox should be a problem solver, able to take on just about any problem around the home you might have, be it plumbing, mechanical, or even woodwork. A set of wrenches, shifters and screwdrivers will come in handy for jobs large and small. Hammers and mallets are always useful. Saws and utility knives will come in handy too.
3. Shovel and Spade
People frequently get shovels and spades confused for the same thing, but, while they may look similar, they serve different purposes. Both are good for digging and scooping dirt and soil out of a given area, but spades are much better at slicing through much harder, more compact soil. Make sure you pick a few of them up and weigh them when buying so you get a weight that suits you.
4. Gloves
Another must-have, gloves come in handy for all sorts of outdoor and indoor work. The last thing you want is to spend all weekend working in the yard and getting blisters on your hands that make you useless at work on Monday. Gloves will keep that horrible scenario from ever happening. They'll also protect your hands from any mishaps.
5. Trowel
There's going to come a point – maybe tomorrow, maybe a year from now – when getting into the garden and remodelling the entire thing seems like a great way to spend a weekend. You'll run into trouble quickly if you don't have a trowel on hand. Perfect for digging holes for planting in smaller areas, these are compact tools that make a big job move a lot faster. Make sure you get one with a smooth handle that fits comfortably in your hand.
You're only as good as your tools and these are some of the best there are. Every home should be outfitted to solve the sort of everyday problems and breakdowns that crop up far too often. Having these items on hand means being able to fix the issue yourself in minutes rather than calling an expensive professional for help. What are your must-have tool shed items? Start a list in the comments below.