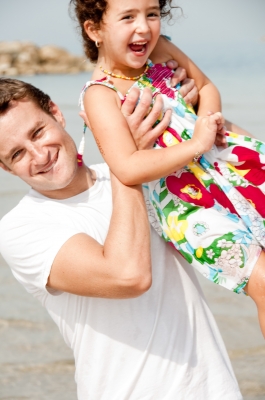 Taking the kids on vacation abroad? Before you head to the airport, make sure to have all necessary documents and approvals on you, ready to pass through security and immigration without a problem. Depending on your parenting status, one of the most important documents you will need in order for your child to travel is the child consent travel.
So what is child consent travel? 'Travel consent' is a form of documentation that shows you have permission to travel with your child. It can also mean that another custodian has given you that right. A consent document usually includes children less than 18 years of age. Any of the following situations may require such documentation:|
1) When a child travels alone
2) When a child travels with a legal custodian who does not have sole custody
3) When a child travels with a group/organization and the parent or legal guardian is not a member of the group.
This form of documentation is especially important for overseas travel. Applying for a passport for your child will also require consent. The government in Australia is adamant on avoiding situations of abduction and may ask for further documentation upon passing immigration or requesting a passport, so it's necessary to be prepared and always carry a copy of the consent forms when travelling.
Child consent travel documents are available to fill out online and must be filed in the Federal Circuit Court. You must also file an affidavit in support of your application, as stated in detail by Australia's Family Law Courts.
Countries Requiring Certification
Certain countries (such as Brazil) request special consent forms for minors. Any time you plan to travel abroad, it helps to contact the consulate for the country where you plan to travel. Some of the required paperwork may take a while to complete. Therefore, it's recommended that you check out specific details far in advance. If you arrange travel through an agency, it's still best to take time to find out all requirements and details.
Travelling Alone or with a Guardian who has Sole Custody
Even when a parent (or legal guardian) has sole custody, the government recommends carrying documentation. A certified (notarized) copy of a sole-custody (or a death certificate) may be adequate. A similar example would be for the child traveling alone, who has a single guardian. In this case, one signature will be required for consent purposes.
Travelling Consent for Dual-Guardianship
When a child plans to travel alone, and two parents (or guardians) share responsibilities, both signatures will be required on the consent documentation. If a parent (or legal custodian) plans to travel independently with the child, consent from the other guardian is necessary. Since circumstances vary, it helps to find out about the details long before arranging travel plans. Moreover, never take anything for granted!
Preparing for Travel
Travelling with your child can be one of life's most memorable and rewarding experiences. However, once you leave Australia, many of your privileges are left behind. Emergency and health services in other countries can be quite different from what you have come to expect. While the government will help in any way it can, there are many restrictions surrounding the rights of Australian travelers in foreign places. In every case, it is better to be over prepared. The more organized you are, the more enjoyable your travels are likely to be, for you and your child. Taking the time to do a little homework is one of the smartest moves a parent can make.